A Valentine's Crazy Heart
Yesterday we saw
Crazy Heart
, a film staring Jeff Bridges,Maggie Gyllenhaal, and Robert Duvall.
It's a film about a seasoned country musician, his love of whiskey, and his adoration of Gyllenhaal's charachter. Bridges himself is musically inclined so the scenes where he is performing are actually enjoyable.
Crazy Heart is one of those movies that reflects upon actual life so accurately that it pulls you into the story and doesn't let go until the credits roll. Of course, it helps that Jeff Bridges happens to be such a bad ass actor. Maggie Gyllenhaal also did a commendable job. I am still singing a couple of songs from the movie. In fact, after the movie I wanted to go home and pick up the guitar and play a little.
"funny how fallin' feels like flyin', just for a little while."
Should you go see it in the theater? Eh, why not? I think you would enjoy it. The scenery and a couple of concert scenes look nice up on the big screen and the sound track sounds good throu the surround sound system.
On to the next thing- Valentine's gifts.
(Or St. Valentine's gifts...if you prefer)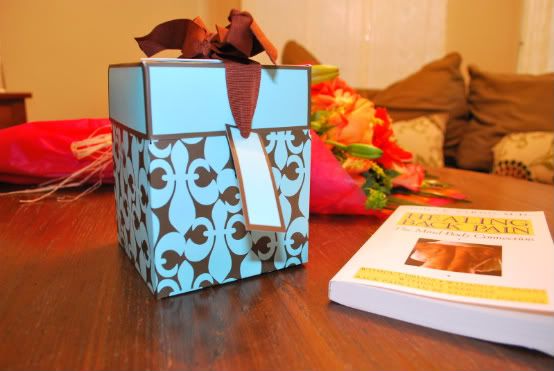 Dale went out to the gym and came back with these. Actually, the gym was his excuse to get out by himself so that he could pick up these goodies.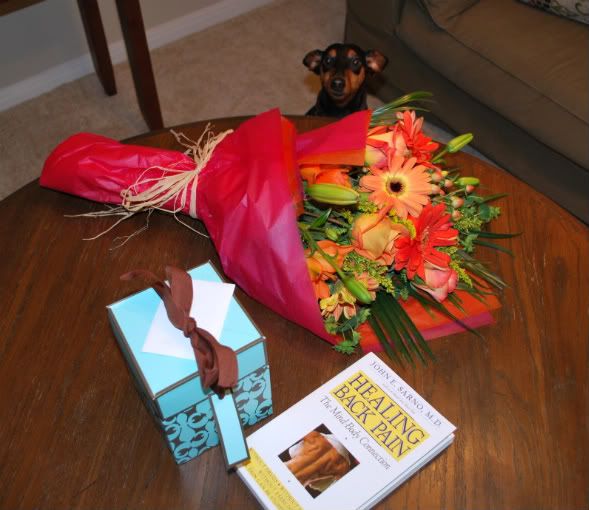 Check out Charlie's photo bomb. That dog is constantly sneaking into my pictures.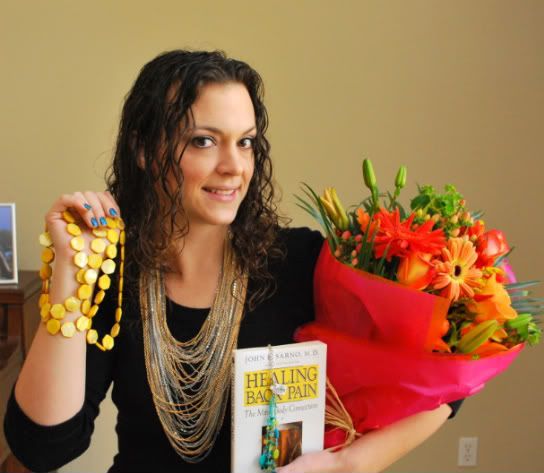 Dale got me 3 necklaces (two of which he saw me admiring at one point in time), some beautiful flowers (Whole Foods has a wonderful selection), and a book about back pain.
The back pain book may seem random but I was totally excited to get it.
I got Dale a shirt that I had ordered for myself off of shirtwoot. I accidentally ordered the wrong size. The shirt fit Dale so I told him it was his Valentine's day present.
Rad.
In Other News:
*I hear that The Black Keys have recorded a new album that should come out in March or April 2010. I hope they play SXSW this year.
*Rachel Ray annoys the shit out of me. Mostly, It's her voice- all scratchy and damaged.
Secondary to her voice, is her neck. It looks like her head was pushed down on her body, thus compressing her neck into an unnaturally short state. That's just mean. I'm sorry. (also, she says shit like "E.V.O.O." Blech. Team Paula Dean, all the way.)
*hope you have a lovely Sunday. We are going to check out the new Sprouts market and possibly swing by Bed Bath and Beyond. Rock and Roll, baby!