Not Age Appropriate or just Not Appropriate?
I made my first solo trip to Barton Springs Pool today. It was fantastic. Just me, a book, and the beautiful springs. I love going to the pool with friends, but I also like a little alone time. I got there early so the place was not yet packed. I only stayed a few hours but that's really all the time you need when you are alone at the springs. It was heaven.
Any-hoo, on my way home I decided to stop at the HEB for a few groceries. As I pushed the mini-cart down the main isle (don't you love the mini-carts?)I found myself stopping at the O.P.I. nail polish display. This Girl needs to get her toe nails did and is looking for a cute color. Well, I got the color but am not so sure it is cute. I give you the odd polish known as, "Rainforest":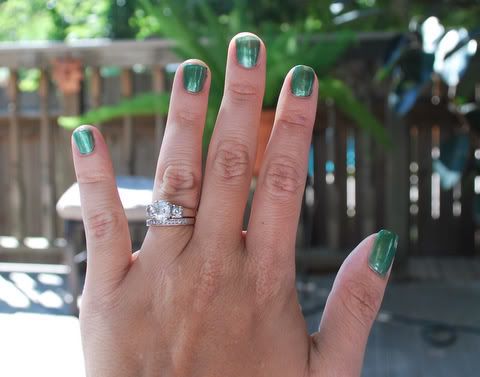 Yes, I went with green. I feel like a witch and I like it. I do want to tell you that I hesitated before buying. I tested the color on my thumb nail, as I stood in the make-up isle, and looked at it for a while. I thought, "Is green finger/toenail polish really age appropriate? I mean, come on....I'm a 32 year old professional."
Then, I thought "actually, is green polish appropriate at all....regardless of age?"
The answer to both questions is no.
I bought it anyway because I thought it was preeeeeeeeeety.
And that, my friends, is this week's GWOP (Gratuitous Picture Of Yourself Wednesday).