The Shot Series
Here we have my good friends, Juan and Reyna.
They've been working out.
Last weekend, they invited us to check out a Mariachi band. Juan had seen the band perform on some television program and was hooked. Juan and Reyna are good sports and will typically go with us to various shows. It was their turn to turn us on to some music. More on that later.
For now, I present to you a series of photographs that capture the beautiful Reyna taking a tequila shot: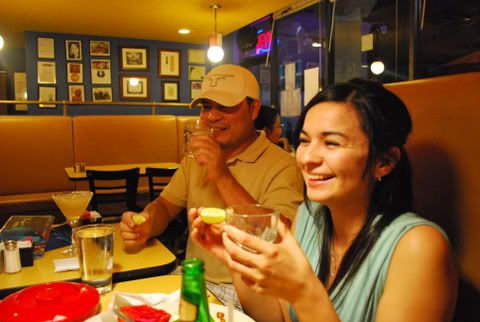 Shot in hand. It's all fun and games.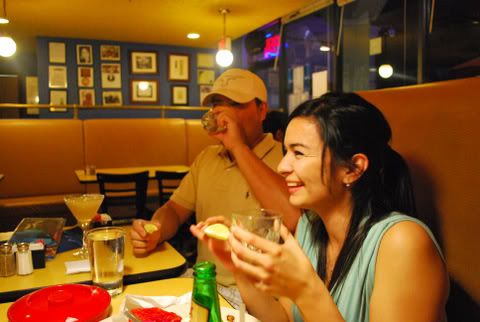 The lime is ready to go
somebody makes her laugh.....could it be nervous laughter?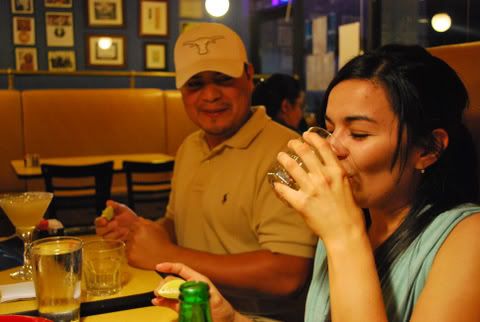 Down the hatch!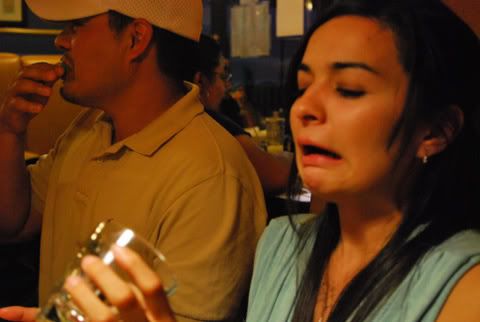 Tequila face....this happens to the best of us...
including Juan.
In other news:
Today, I traveled to the Gold's Gym located in Cedar Park. I have been working out for 3 weeks and have always gone to what I lovingly refer to as "Ghetto Gold's". Ghetto Gold's is closer to my house. It is pretty sparse and does not have the latest equipment. What they have is personality, and lot's of it. "Personality" is the nice way of saying that a place is a little worn around the edges. Sure, it pisses me off that 90% of the gym members at this location do not find it necessary to wipe down the machines after they use them. I've adapted by doing so before and after I use the machines. It's also not crowded....at all. I like that.
Cedar Park Gold's is fan-fricken-cy! They have the cardio theatre, a pool, an area dedicated to perfecting your abs, and the largest collection of what some would call MILF's/Cougars that I have ever seen. Also, this Gold's is located in a shopping center that shares space with: Jenny Craig, Jamba Juice (and about 3 other smoothie places), Academy, and GMC. It's like health central over there. They also have Starbucks, Half-Priced Books, Target, Hobby Lobby, Ross, and Charming Charlie's. I will probably stick to Ghetto Gold's, for the most part, because I fear that I will shop after every gym trip if I convert to the fancy Gold's.
Really, I just don't feel like I belong amongst the ladies at the Fancy Gold's. I mean, they wear those crazy cleavage boosting, midriff bearing, color coordinated, bedazzled-spandex work out gear. I wear athletic shorts and a t-shirt. I think it's a strong possibility that these women might be looking for men up in that joint. Maybe this location should be called "Gold's Diggers?" Ok, that was lame.
Ya'll have a good day. I will bring you more of Mariachi night with the next post.