Expensive Jewelry
I was sitting in the nail salon, waiting for the paint on my pre-fall manicure/pedicure to dry when this woman walks up to me and says, "I have those earrings in turquoise."
I have seen this woman before. She is the woman that carries a Louis Vuitton bag and makes sure you know that she does. She will also tell you about how she just bought her daughter a Chanel purse.
Even though she wears the same busted, black stretch pants every time I see her.
So she makes the comment about the earrings and I say something like, "oh." She comes back with, "Those are Kendra Scott, right?"
I said, "yes" and she looks down at me (literally, I was seated and she was standing) and says, "Well you can never be sure." as if I were wearing some knock offs or something.
And you know what? SO THE FUCK WHAT IF I WAS! WHY SHOULD SHE CARE?
Now, I only have the earrings because I got them for half off. Full price Kendra Scott is a bit too rich for my blood.
Right after this lady delivers her last line, the woman next to me says, "well I am wearing some VERY expensive jewelry."
I was like, "holy Moses smell the roses, what is this bitch talking about?" But then, the best thing happened. She explained that her husband had broken his clavicle a while back. They had to screw a titanium piece to the bone to piece it together and allow it to heal. He was playing polo and was thrown from his horse. To add injury to insult, the horse stomped on his collar bone and crushed that sucker. A few years after the surgery, the titanium piece started to poke at the skin which led to another surgery for it's removal. The doctors asked the man if he wanted to keep the parts and he said, "hells yes." Well his wife thought the piece was shiny and pretty, so they had it made into a necklace. Here:
With matching earrings made from two of the screws that attached the piece to the bone: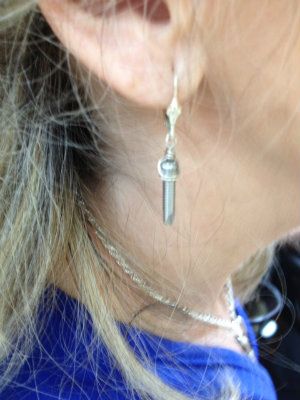 With the total cost of both surgeries, the woman said her jewelry was worth about $400, 000. She enjoyed wearing her husband's titanium clavicle as it was "close to his heart" for quite some time.
I really enjoyed her conversation and company. Louis Vuitton lady? Not so much.