She's Crafty!
Hello and welcome to my blog. Listen sister, I made some really cute ornaments and I just have to show them to you. I saw this "do it yourself" idea in some magazine I was reading while waiting, in my dentist's office, to get a tooth ripped out of my jaw.
Get ready to be bombarded with several photos of the same thing. I love them and think they are pretty.
And so we begin: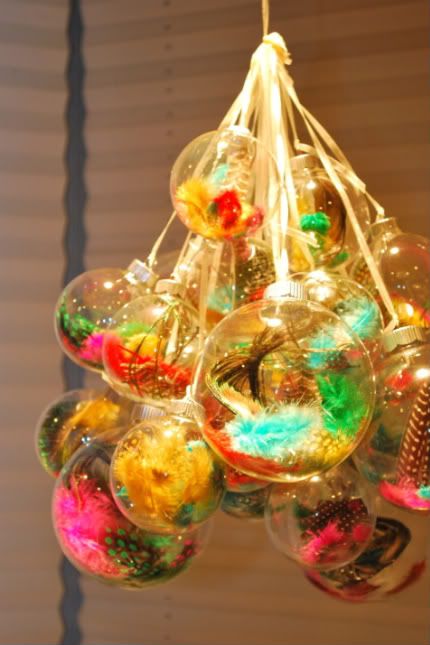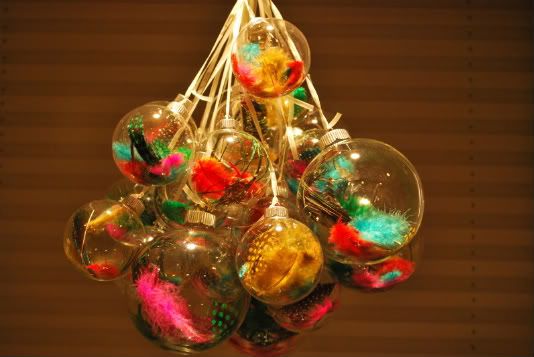 I bought the clear glass ornaments, colorful feathers, and ribbon at my local Hobby Lobby. I already had the peacock feathers thanks to Clint.
Check it out, you can see my reflection in the eye of the peacock feather.
After a few days,I decided that I did not like how they were hanging and moved them into a bowl. That's right, I did not like how my balls were hanging. And?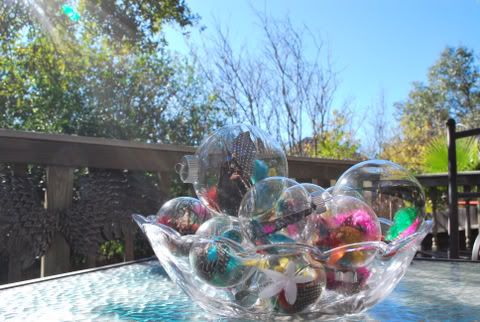 The balls come in two different sizes and I used both the small and large. I like the contrast.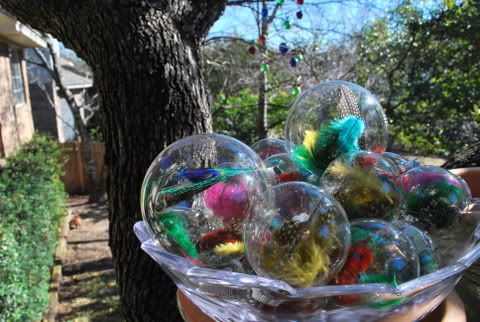 I remembered I had some hurricanes that I got free from Ulta because I shop there so much(I love makeup, nail polish, bubble bath and skin products). These babies are perfect for the left overs.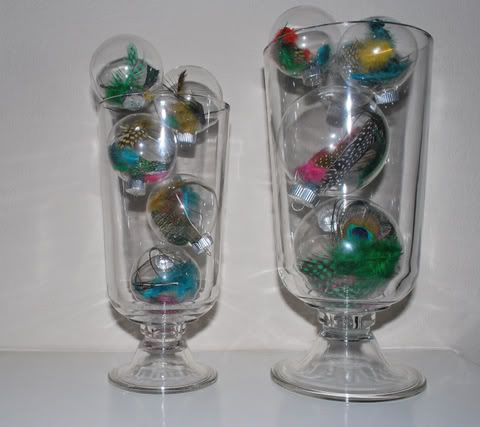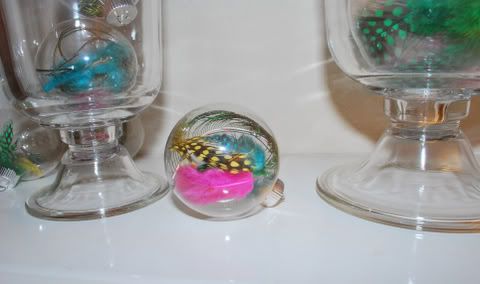 Here is what one ball looks like all by itself. The image is a little blurry because I could not hold the camera still. Thank you, back spasms.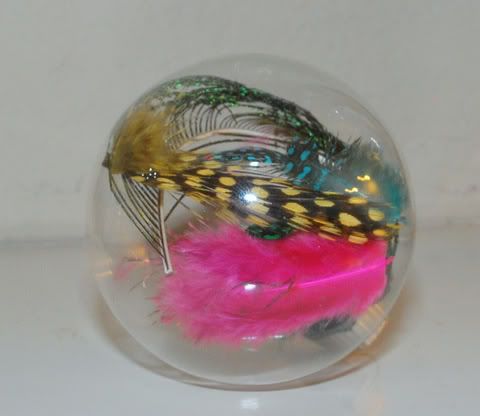 It still turned out pretty cool.
I love these so much that I may keep them out year round.
Or maybe not. I don't know.
In other news:
Have you seen the commercial for the "Taco Bell Drive Through Diet?" Are you fu*#ing kidding me? When I first saw it I thought it was a spoof. I mean, "Taco Bell" and "Diet" should not be uttered in the same sentence. I am surprised that the universe did not implode upon the making of this commercial. It's pure evil.
My physical therapist told me that my right hip is significantly weaker than my left hip. I also found out that my neck musculature is very weak (knew that), my core needs to be strengthened (knew that. I need to get back to hooping), and that my lower back musculature on my right side is weak. Goal for 2010: get strong.
I am recovering from a seriously painful back sprain with a side of spasm. The pain and immobility caused Dale and I to miss Christmas. Well, we celebrated together but could not make the trip to Dallas to see his family. We should see my folks in a few weeks for a late celebration. I am sad I missed out on sharing the holiday with more family but am happy to have a husband that made it special for me. I love that guy. (I know Bee can understand how I feel as she missed out on Christmas with her family due to the blizzard in Lubbock.)
That is all for now. You are all super pretty and you smell good too.