Railroad Revival: The Cloud and The Music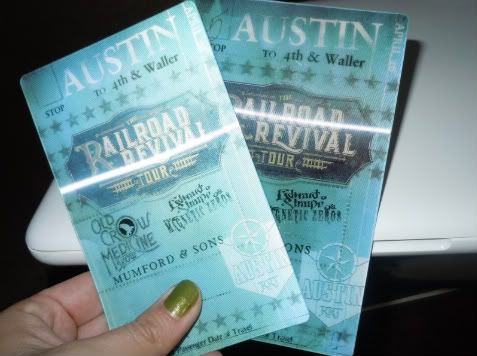 "This April, Mumford & Sons, Edward Sharpe & The Magnetic Zeros, and Old Crow Medicine Show will embark on a tour unlike any in recent memory. Traveling exclusively in vintage railcars, the three bands will journey across the American Southwest over the course of a week. The aptly titled Railroad Revival Tour will feature the three bands playing concerts at six unique outdoor locations along the route, beginning April 21st in Oakland, California."
-Tour Announcement, Posted on March 2, 2011 By Railroad Revival Tour
-
Here
The tickets for the Austin show sold out faster than any other show on the tour. We are talking like 10 minutes or so. Maybe less. All I know for sure is that I was one of the lucky ones......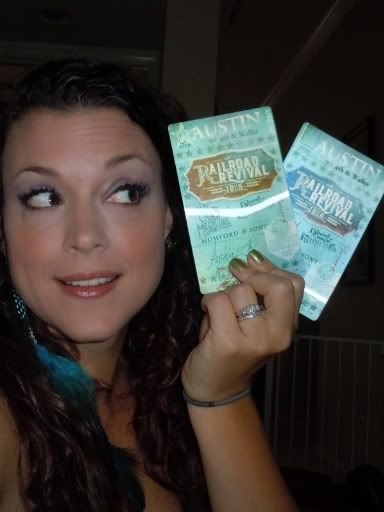 The show was this past Wed and it was, as fellow concert attendee and friend Kim C. put it, "Hot, dirty and amazing!"
Old Crow Medicine Show played first. I really don't have a good picture of their performance as we were too far from the stage at that point. Don't worry, we moved up by the time the next band took the stage. OCMS were fantastic live! Dale and I discussed how much we would love to see them in a small venue. That would be too much fun.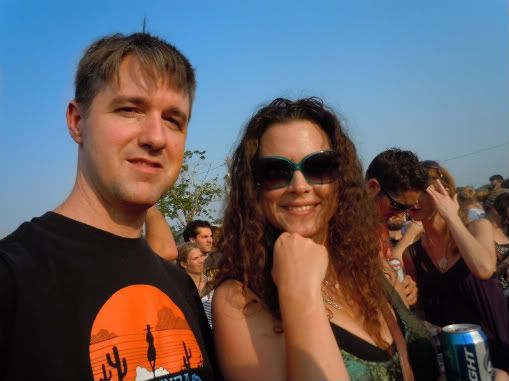 Here we are waiting for Edward Sharpe and the Magnetic Zeros to take the stage. Soon, our good friends Rachel and Larry joined us. Rachel was dressed for the occasion in her cute engineer hat-
Edward Sharpe and the Magnetic Zeros came out and started their set with 40 Day Dream. Here is a short clip of that + me, Rachel, Larry, Dale, and the crowd: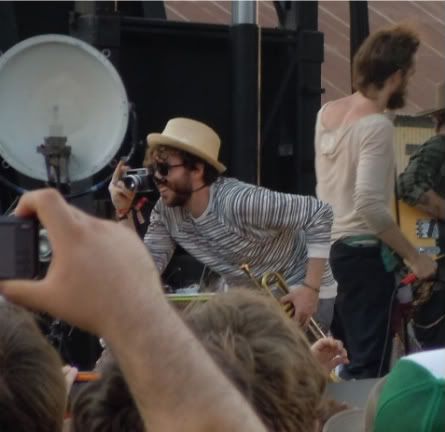 If I were in a band playing to thousands of people, I think I would take a picture just like this guy (Stewart Cole) did.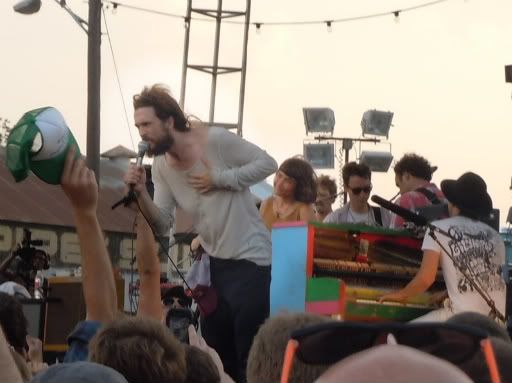 Alex Ebert is one of the most engaging front men I have ever seen. This guy has the charisma you were looking for!
No, it's not under the bed with your missing sock and your flip flop.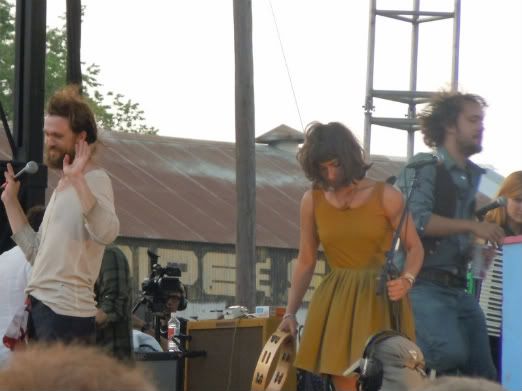 Jade Castrinos has a voice that will make you want to cry, move, sing, pass out, paint, and make pancakes. All of that and she is sporting a great dress.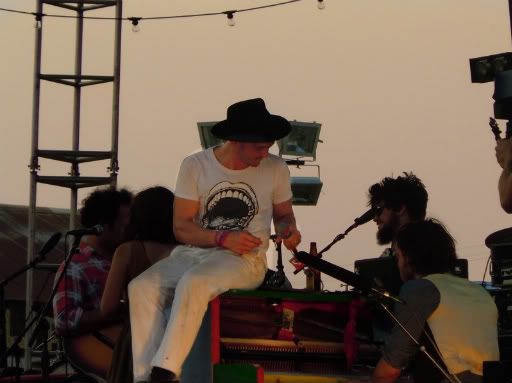 Oh, look! Marcus Mumford and Ben Lovett of Mumford and Sons came out to join the band! (They did the same thing when OCMS played.)
Do you want to know about the most beautiful thing that occurred that night? It was a moment that included this cloud + the music of Edward Sharpe and The Magnetic Zeros+ the vibe of the crowd.
This mutha was HUGE! At one point, Alex Ebert pointed to the enormous cloud and exclaimed "Holy Shit, Look at That!" followed by "thanks mom."
Now look at this short clip of the band and the music and the crowd and tell me it
ain't
beautiful:
Mumford and Sons up next....