What to Wear to a GaGa Show
I'm a little sad because I thought I had taken more photos of what the concertgoers were wearing. I did not have my camera so I had to use my phone. My good buddy Amy took a few pics with her camera. I'm telling you, there were so many people dressed up it was hard to chose who you should stop for a picture. The people with the best costumes had crowds of people surrounding them taking picture after picture, making it hard to get the shot.
Here are the pics I managed to get: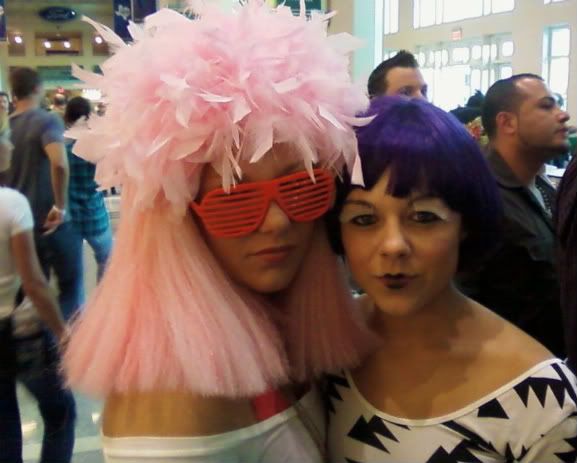 There were wigs-o-plenty. Are you surprised I did not wear one? I try to not ever wear a hat and a wig at the same time. It's just too damn hot to do that. The avant garde makeup was also very popular.
There were a million people dressed as Lady Gaga.
These two were dressed as Gaga and Beyoncé from the Telephone video. The girl dressed as Gaga was dead on while the Beyonce gal could have done better. See that guy in white trying to jump in at the last second?
He apologized and said he had always wanted to jump into another person's photo. Then he told me my veil was "so preeeety" so I decided to take a picture with him. The camera did not pick it up, but his chest was covered in glitter.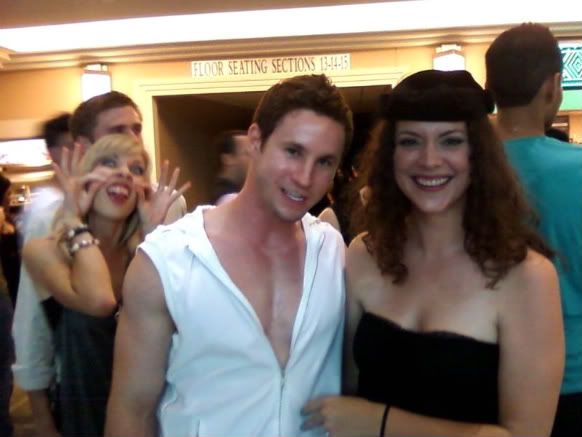 How funny is that gal in the background? She could give my glittery friend lessons on how to properly execute a
photo bomb
.
After the show, I saw this cute kid wearing a great jacket. I went over to ask him if I could take his picture. Well, he was with a bunch of girls and I did not have the heart to tell them I just wanted his pic. So, I opted to make it a group shot with myself included. This photo makes me laugh for two reasons: 1. it looks like most of us gals went back to 1985 and raided Molly Ringwald's closet and 2. They are obviously many years younger than me which makes me look like I am their crazy aunt that gave them a ride to the prom.
Here is a cropped photo of just the boy. I love the spikes!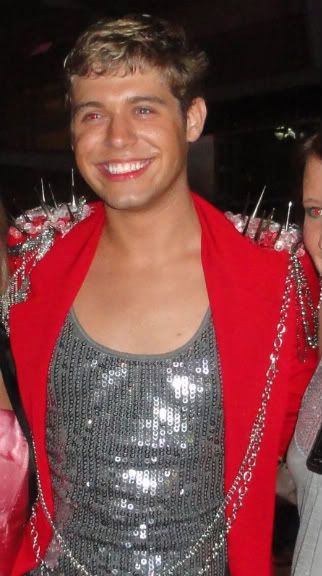 And now, for the pièce de résistance, I give you a photo of my friend Mike. I went to high school with this fella and have reconnected with him through myspace and facebook. Gotta love social networking. Sadly, I did not get to see him at the concert. He went to the Friday show and I went to Thursday show. He posted this photo on his Facebook page and allowed me to use it on my blog.
He wins the award for best dressed:
Mike is also known as the drag queen
Nikki Sky
. Bitch knows how to work it!
Up next, photos of the actual show plus a review.